Data Analysis
HearTrak automatically analyzes data, and revises baselines when necessary, using procedures developed over several years in cooperation with some of the leading hearing conservationists in the field. Regulatory requirements are met with a minimum of user input, freeing the user to concentrate on the workers at risk.
AAO Medical Referral criteria is applied to each test
Separate Baselines for Medical Referrals
Automatic STS/Recordable Baseline Revision (HearTrak Criteria)
Automatic STS/Recordable Baseline Revision option (NHCA Criteria)
Manual Baseline Setting to Override HearTrak Automatic Revisions
Separate Baselines for Each Ear (default) or one test as the baseline
OSHA Age Correction where Appropriate
Separate Recordable Baselines for WA, OR, etc.
Reject Test (for analysis purposes when a test is obviously incorrect)
Set New "First" Test (i.e., when an employee returns from a long absence)
Deny STS or Recordable for Variety of Valid Reasons
Immediate Notification of STS or Recordable after reading the audiometer
MSHA Recordable Criteria
National Railroad Criteria
NIOSH Criteria
Alberta, Canada Criteria
HearTrak will analyze all data according to OSHA, MSHA or National Railroad Administration rules, as appropriate, for the individual worker's type of hearing conservation program. There can be a mixture of program types in the database (i.e., OSHA and MSHA). All analysis is based upon a comparison to a "baseline" test. When a "Standard Threshold Shift" (STS) is identified and confirmed by a future test, the baseline can be revised. HearTrak can do this automatically and consistently with algorithms that have been refined over a period of 20 years. If the reviewing doctor or audiologist does not agree with the change, the revision can be manually overridden. The following graphic shows the recommended baseline revision criteria in HearTrak.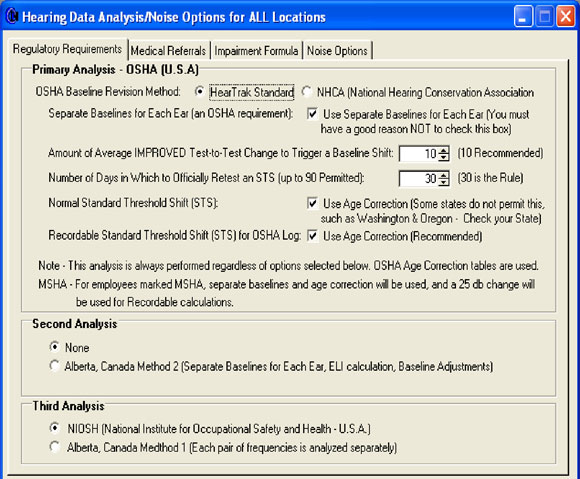 It is important to note that some states (i.e., Oregon and Washington) do not permit age correction for normal STS, but do permit it for Recordable STS. HearTrak resolves this conflict by tracking the STS and Recordable STS baselines separately. This will result in situations where there may be a normal STS, but not a Recordable STS, or vice versa.
Baseline revision criteria can have a substantial impact on the number of STSs or Recordables that are identified. Occupational hearing testing can be very erratic with substantial fluctuations from year to year. The HearTrak Standard criteria takes this into account when revising baselines. The NHCA baseline revision criteria, included as an option in HearTrak, will result in substantially more STSs and Recordables being identified (typically 25 to 150% more). This is due to normal fluctuations in test results from year to year, with the same STS/Recordable being identified again on future tests. The NHCA criteria was written before 2003 (when a recordable was based upon STS) and was not tested with any large databases. Because of the problems associated with the NHCA criteria, it is not recommended.
Most commercial software packages use the NHCA criteria as the only option.
HearTrak also can revise baselines based upon Alberta standards and NIOSH criteria.
HearTrak also supports all the major impairment formula, as shown below. Summary impairment reports are available in the Professional versions of HearTrak, and include the option to list estimated dollar values for the impairment based upon individual state awards.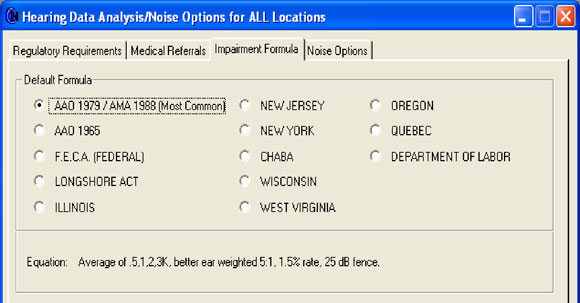 Medical referral analysis is based upon AAO recommended criteria for hearing conservation programs. HearTrak uses separate baselines for medical referrals, and have no relationship to STS or recordable calculations.