Audiometer Compatibility
HearTrak supports all major microprocessor audiometers used for occupational hearing testing, including:
Maico 728, 800, and 790
Tremetrics RA300 (RA400 and Foshm modes), RA400, and RA500
Monitor Instruments MI-5000, MI-7000
Ambco
Benson, excluding the old CCA-100 (Benson software must be running simultaneously)
Micro Audiometrics (Earscan II, MicroLab, Earscan 3)
A microprocessor audiometer permits HearTrak to import data directly from the audiometer without the need to manually enter the data. However, all audiometers communicate with the computer differently. Some will only transfer data when the test is finished, others will transfer data as the test progresses. In all cases, the audiometer actually controls the testing process, not HearTrak. However, once the data is received by HearTrak and accepted, it is automatically analyzed and notification letters can be automatically printed. Some common audiometer interfaces are shown below:
RA300 (in the Foshm mode of operation):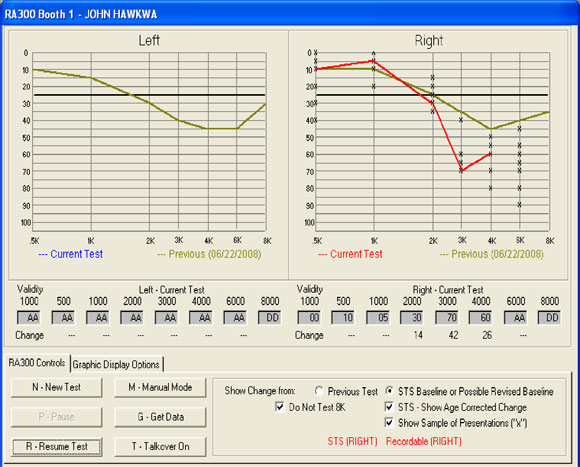 In the sample above, a test is in progress with the right ear being tested. The red line represents the current test and the green line represents the previous test. Baseline or first tests can also be displayed. The small "x" above and below the graphed thresholds represent the presentations that have been made.
If the RA300 is put in the Manual Mode, a manual test can be conducted or selected frequencies can be tested from the audiometer.
MicroAudiometrics Earscan 3: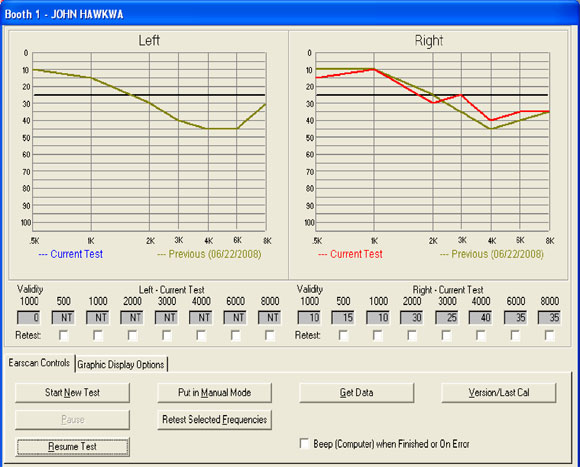 The interface is similar to the RA300, except that a manual test is conducted directly from within HearTrak. The progress of the test is shown both graphically and with numbers.
Monitor Instruments MI-5000: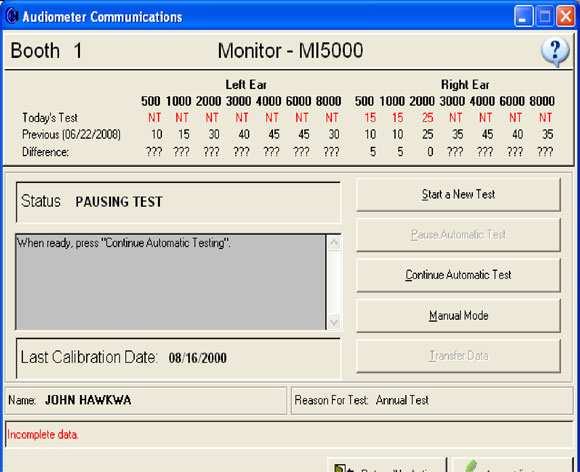 Data will be displayed as the test progresses with possible messages appearing during the test to indicate problems.
Maico MA800, MA790: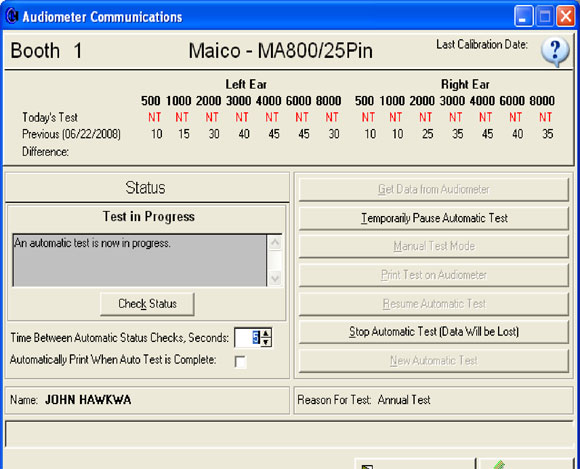 Test progress with the Maico audiometers cannot be displayed. When the test is finished the data is automatically collected from the audiometer and can be accepted by the user.