Special Functions
There are times when it is much faster and easier to make selected changes to an entire database rather than select individuals one at a time for editing. This is more common after importing data from a third party and corrections must be made.
One of the more common functions include combining duplicate employees (the HearTrak Professional system has a report to help identify potential duplicates). This is not an uncommon occurrence, especially after importing data from a third party. Names, birth dates, etc may not be correct in the database or the imported data and cannot be matched with certainty.
Another common request is to replace real social security numbers. It is very strongly advised that social security numbers not be used, particularly when data is provided to third parties.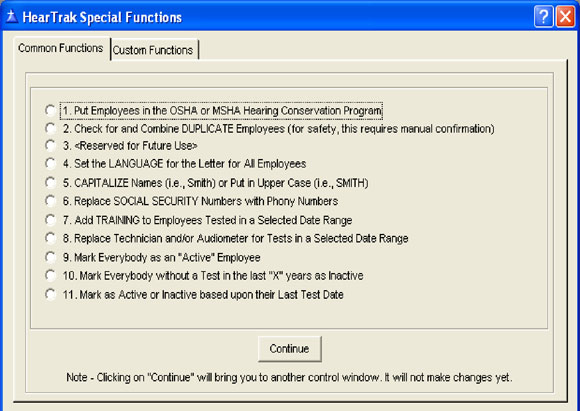 The "Custom Functions" tab provides access to password-protected functions for special situations, that if not used by a knowledgeable person can result in damage to a database. One example involves reversing ears in all tests in a selected time frame. This can occur when importing data from a third party and not identifying the left and right ears correctly (often the supplier of the data does not provide a data format to follow).